Descripción
The MovNat Level 1 Certification is your starting point for learning the fundamental skills and principles of Natural Movement® Fitness.
We believe quality movement matters, and quality movement starts with Natural Movement®.
If you want to develop your movement skills and regenerate your body in a safe, sustainable, and natural way, please join us at this special certification event where you'll safely explore what you're truly capable of when you start moving naturally (i.e. the way your body is designed).
Course Description: The Level 1 Certification includes lectures and practice sessions to learn MovNat's concepts and modalities, essential movements, coaching and teaching strategies, and other lifestyle recommendations. The movement training includes small group sessions in which attendees are instructed and evaluated in MovNat techniques. Methods are discussed for optimizing both an individual's movements and how to instruct others. Certification candidates should view the Level I Certification Course as the beginning of the journey.
STUDY AIDS
As part of your Level 1 Certification, we provide several important resources to help you prepare and get the most out of the experience.
MOVNAT CERTIFIED TRAINER MANUAL
The MovNat Certified Trainer Manual is designed to bring you up to speed with the fundamental principles & terminology that govern movement and MovNat coaching techniques. Additionally, it covers the coaching techniques required to begin teaching movement effectively and safely. The Manual is an essential resource both for certification and your continued practice.
The manual begins with a detailed explanation of MovNat theory: a definition of Natural Movement, how it is practiced to ensure optimal learning, and what it's goals are. In particular, we cover topics such as:
Movement Effectiveness / Efficiency principles
Mindfulness & body signals
Kinetic preservation
Technique variation & adaptability
Formation of technique (position – sequence – tension)
Points & Base of Support
Body Weight Shifting & Transfer
Static & Dynamic balance
The manual also includes a detailed "Skills and Techniques" module, which breaks down an assortment of natural movements from various levels of our certification program. The purpose of this module is to show how the theory from the previous modules is used to deconstruct and coach the movements.
Skills breakdowns covered include:
Crawling
Balancing
Running (taught in our Level 2 certification)
Lifting and Carrying
Throwing and Catching
Jumping
Climbing
For example, the Lifting & Carrying section covers common misconceptions about weight and stress on the body, "It is not the load that breaks you down, it is the way you carry it." We cover the essentials of muscular spinal protection, Selective Tension & Abdominal Bracing, The Valsalva Maneuver, Forceful Exhalation & Intercostal musculature, etc. Techniques covered in detail include the Dead Lift, the Push Press, The Lap Carry, & the Waist Carry. All specific techniques covered in the module contain practical application drills, progressions, and safety reminders.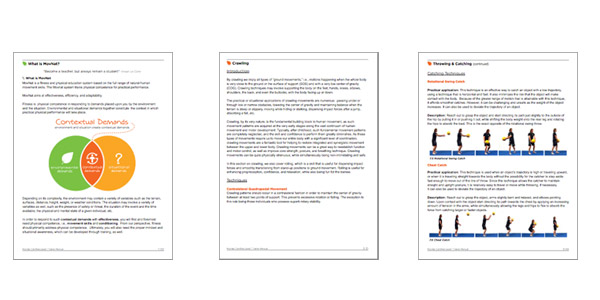 THE COACHING SECTION
This section covers the best practices and considerations for teaching MovNat classes, workshops, and one on one training sessions. The specifics of the current fitness landscape, public perception, and appropriate venue are discussed. We cover all the safety concerns and practical considerations that go along with teaching Natural Movement® in the real world.
Topics in the coaching section include:
How to train at various levels
Barefoot teaching considerations
How to establish perception drills for new practitioners
How to manage training safety
Promoting the MovNat Situational Mindset in your teaching
How to deconstruct & progressively sequence proper technique
Identifying inefficiencies & addressing them in practice
How to manage training progressions
Programming guidelines for establishing a curriculum (Singular drills, Combos, Courses, Challenges & Games)
Managing class size and appropriate drills
THE VIDEO LIBRARY
Upon completing your registration, you will also be given access to our extensive video training library with nearly eight hours of instructional footage. This excellent resource is designed to make your certification process as rewarding as possible. If you register today, you can start training today.
These videos take you step by step through each movement in the Level 1 Certification. Watch Erwan Le Corre explain the principles behind each movement you will be tested on. You can train right along with Erwan as he goes step by step through each movement.
Balancing
Breathing
Carrying
Climbing
Crawling
Jumping
Lifting
Running
Throwing
Vaults
Walking